Keeping with the tradition of posting a religion-related comic before the serious conversation: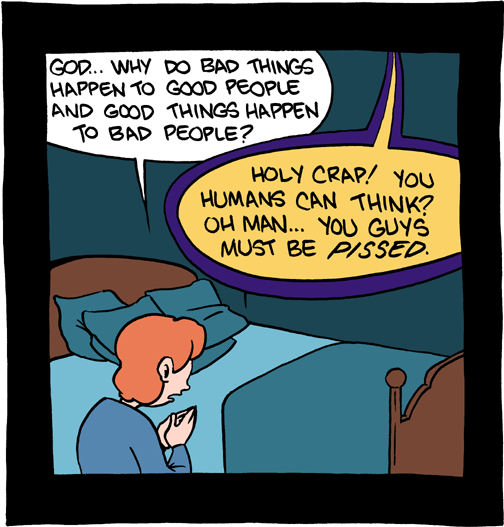 Okay, so here we go with letter* #2:
--------------------------------------------------------------------------------------
Hi Stephan! Good to hear from you, man!
I'm glad you responded to that post, actually. I post those in hopes that my Christian friends will respond. You're one of my Christian friends that can talk about these things without being unreasonable and/or put off.
First you say,
Such a list saddens me, because many of those items can be easily explained through actually studying the context (textually & culturally), as well as distinguishing "paradox" from "contradiction".
I know exactly what you mean. I'm familiar with many of these explanations. For me, the important thing isn't that there are alleged contradictions in the Bible per se or that there are alleged workarounds; the important point for me is this: many Christians tend to shrug off other Holy books because they have historical, theological, or self-referential contradictions, just like the Christian or Jewish Holy texts. Muslims, for example, have ways to explain their alleged contradictions; these are strikingly similar to the Christian explanations. Either it is an unknowable paradox of theology or a misunderstood cultural convention.
Every major religion has critics that point out errors in some holy text or another. Each also claims to have infallible texts. For me, the choices are as follows:
1) One of these religions really does have an infallible text. The others have errors.
2) All of these religions have infallible texts. They are all true. The contradictions between religions, like the contradictions within their texts, are a paradox that colors God's mysterious character.
3) All of these texts have errors. None of them are infallible. The followers of these religions have concocted sometimes elaborate explanations.
To me, explanation #3 is the most likely.
I don't necessarily have a problem with theological mysterious, such as free will/sovereignty. I love those kinds of mysteries. It's the banal stuff that gets to me. What would I expect if a bunch of people from the same cultural tribe over a long period of time recorded the myths and superstitions of their day? I would expect something like the Torah, the New Testament, or the Koran.
What do you think?
And how have you been, Stephan? What have you been up to lately?
- Deric
*These are facebook messages, not letters. I just thought "letter" would make it sound classier. Or maybe I just thought that labeling it as "a facebook message" cheapened it. Probably the latter.